Posted by Total Beauty 07/31/12 at 03:31PM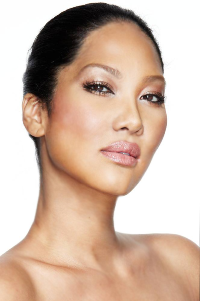 Kimora Lee Simmons' is known for her eye for fashion, but the model-turned-mogul also knows a thing or two about perfect skin. Which is why the designer decided to dive into the skin care realm with the release of her new line,
Shinto Clinical
. The line features products that contain peptides and antioxidants to help minimize signs of aging, shrink large pores, and brighten your complexion. Sounds like a sweet deal. What's even better? We got her to share her best beauty secrets:
The secret to thick, shiny hair: "One of my favorite hair products is FIXX Shampoo with Argan Oil. It's great for amping up the shine and I love what it does for my hair. But beyond that, I drink a lot of water and try to give my hair what it needs nutritionally -- from the inside and outside."
The three makeup items she always keeps in her purse: "I carry Shinto Clinical's PORE IT OUT because I love that it doubles as a base or primer." Her summer beauty bag staple? Shinto Clinical's WATCH YOUR TONE. "It's an anti-aging peptide toner that reinvigorates your skin with a boost. It's my pick-me-up!" She also always carries three or four different lip glosses. "You never know when you might have to switch it up!"
Best skin care advice she's ever heard: "Remember that your skin is your largest organ but it's the last to get any nutrition and hydration. So you have to put it in your skin -- from both ends. Eat in a way that encourages your skin to evolve well. And develop a skin care regime that focuses on putting what's missing back into your skin."
Fall trends she's excited about: "I'm excited about the return of the natural face" and "accents like bright eyes and lips." She is just as thrilled to see hair trends that will bring back "texturized and looser waves, ponytails that are slightly askew, and headbands."
Product she's totally obsessed about: Kimora credits her signature golden glow to microdermabrasion treatments. But knowing that the majority of us can't shell out for an expensive spa treatment, she created Shinto Clinical's MICRO MANAGE. She raves that this microdermabrasion cream will give you "that Hollywood glow at home for a fraction of the cost."