Posted by Total Beauty 07/30/12 at 04:52PM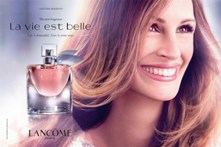 Fall fragrances are starting to hit the stores and Lancome is joining the mix with their new scent, La vie est belle.
So what's special about this new fragrance? While most usually blend hundreds of ingredients, La vie est belle features a mix of only 63 ingredients with top notes such as iris, sambac jasmine, and Tunisian orange blossom. With such a concentrated, pure blend we're guessing just one spritz will last you all day.
The brand's global ambassador Julia Roberts will be featured in the ad campaign for the scent, which will be available in mid-August and retails for $55.