Posted by Total Beauty 08/01/12 at 05:00AM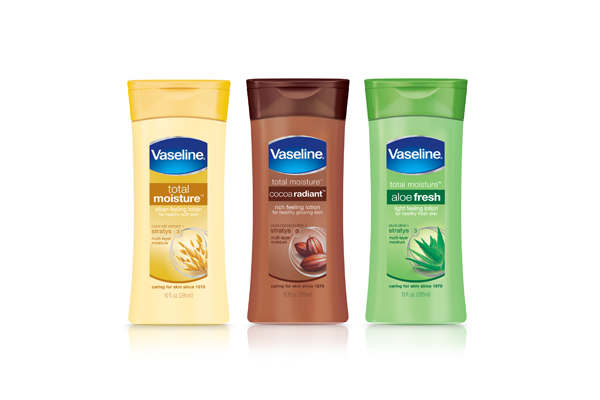 Don't you hate when a gorgeous smelling lotion does almost nothing to soften your skin? Or when a lotion knocks out ashy elbows but smells like medicine and feels like pure grease? If so, then get ready to be excited.
Vaseline has come out with thicker, gentler formulas for their Total Moisture line, with lotions that hydrate skin without any greasy feeling -- and they've got great smelling scents as well. Finally, there is a lotion that feels good on skin, while doing good for skin, all in one bottle!
The new formulas have ingredients like Glycerol Quat, Glycerin, Hydroxyethyl Urea to help moisturize the stratum corneum, the surface layer of your skin, and can work for up to 24 hours. And the Vaseline Total Moisture products come in three different formulas: the original Total Moisture, Aloe Fresh, and Cocoa Radiant ™, so there's something for everyone. They're available now at drugstores; prices range from $1.99 (for 3 oz. bottles) to $7.79 (for 32 oz. bottles).