Posted by Total Beauty 05/15/12 at 12:00PM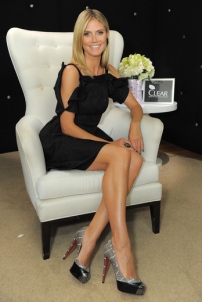 We don't know how she has the time (between hosting "Project Runway" and "Germany's Next Top Model," raising a family, and designing her clothing line with New Balance), but Heidi Klum has taken on the role of spokeswoman for the new-to-the-US hair care line Clear Scalp & Hair Beauty Therapy.
The Clear line has been around in Europe and Asia for years, but it's now being reformulated and sold in America. The six shampoos and five conditioners (for a range of hair types) are available at the drugstore for around $5.99. All of the products focus on improving the health of your scalp, since a healthy scalp equals healthier hair.
We got the chance to sit down with Heidi Klum to talk about the new line -- and a few other fun beauty topics:
Her secrets to great hair:
A great shampoo, conditioner, and hair mask and trims every six weeks. Plus, a good detangling product and hairbrush to minimize breakage.
Her summer beauty tips:
Get a spray tan before you go on vacation, so you're already tan when you get there. And try a leg spray (Klum likes one from Sally Hansen), and a shimmery lotion for night.
Her thoughts on her natural hair color (brown):
She says she'll probably never go back to brown. She's used to her blonde hair and it looks softer around her face. Plus, she feels like she's been a blonde longer than she was a brunette!