Posted by Total Beauty 05/14/12 at 12:10PM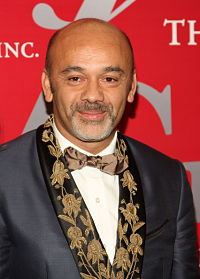 Can't afford to splurge on a pair of Christian Louboutin heels? We can definitely relate. But the good news is you may be able to snag a piece of the high-end brand come 2013. That's because the Paris-based shoe designer is venturing into the world of beauty. "Beauty products also have to do with empowering women," Louboutin explained to WWD about his new cosmetics company. "That's very much the job of the shoes I'm designing."
While the line will be luxurious and "mirror the quality of the shoes, of the bags, of all the DNA of the brand," Louboutin said, we imagine the price will be far less than a pair of his signature red soles. So what can we expect from his new brand, Christian Louboutin Beaute? It's fitting that after creating his iconic style by painting lacquer along the bottom of a heel, the shoe-maker will now release his own collection of nail polishes (and lipsticks). As for the rest of the goods, Louboutin says they're inspired by the Egyptian queen Nefertiti, so you can rest assured they're going to be fierce -- just like his pumps.