Posted by Cinya Burton 06/20/18 at 01:45PM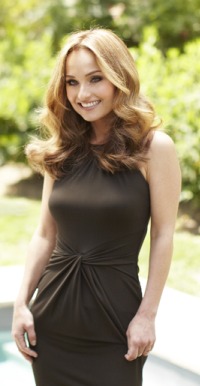 Food Network star Giada De Laurentiis is the latest celebrity to become a
Clairol Natural Instincts
spokesperson. While she was both honored and surprised that she was offered a beauty contract, we definitely weren't -- she has awesome hair, great skin and a seriously toned body. We sat down with the prettiest chef on television to find out her secrets for looking so gorgeous.
Hair:
Her Natural Instincts shade is called "Toasted Almond" -- appropriate for an Italian cook -- and she really does it herself. "I love the golden highlights, and once a week I use the conditioner that comes in the box -- it makes my hair soft, bouncy and shiny," says De Laurentiis.
Skin:
She's obsessed with exfoliating -- and she makes her own scrub. "I take a little baking powder and a little olive oil and I make a paste," she says. "I exfoliate every single night to keep my skin clean and soft."
Body:
De Laurentiis says there are three things that keep her in shape. The first is balance. "I eat a little bit of everything; I don't eat a lot of anything," she explains. The second is yoga -- she's been dedicated since she had an emergency C-section. "Now, it's all about the core," she says. And the third is genetics -- her mother is just as tiny.