Posted by Sarah Carrillo 03/13/12 at 04:56PM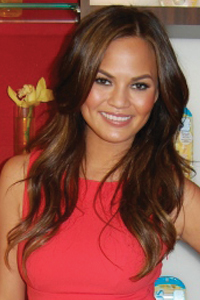 What's the first thing you think of when you hear "Sports Illustrated Swimsuit Issue"? We're betting it's not "ooh, cute swimsuits."
We recently caught up with model Chrissy Teigen who agreed. "There's not a lot of suit in the magazine these days," says Teigen. "If there's any less ... it's not going to be a normal magazine!"
And with all that near-nakedness comes a lot of preparation.
"The day before the shoot is all about the skin," she says. "You get exfoliated from head to toe to help prep for your spray tan." Shaving is also an important part of the ritual -- Teigen says she shaves twice a day when she's on location -- with
Gillette's new Venus and Olay razor
, the official razor of the "Sports Illustrated Swimsuit" issue.
"With this razor, you don't even need shaving cream -- one less thing to get through airport security," says Teigen. Perfect for when you're in your bikini or, in Teigen's case, taking it off.