Posted by Total Beauty 03/05/12 at 05:12PM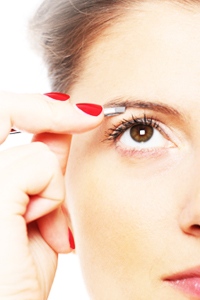 Watch out, Anastasia -- there's a new celebrity brow guru in town. Sharon-Lee Hamilton, brow artist to Australia's stars, is now offering services in Los Angeles and New York City. We caught up with her in Hollywood for her signature shaping -- and to snag some simple tips that can help
everyone
turn "blah" brows into "wow" brows instantly.
The No. 1 tip she gave us? Pluck every day. And yes, this is true even if you're trying to grow out your brows. "Tending to your brows daily -- or even every few days -- will maintain your shape and ensure they don't become far too overgrown to recognize the line that has been established," says Hamilton. Let your brows go for too many weeks and they'll be so messy that you'll end up giving yourself a hack job when you just go in for a quick "clean-up," she says.
Want to see Hamilton's brow-shaping prowess in action?
Check out this video
.