Posted by Total Beauty 03/14/12 at 04:12PM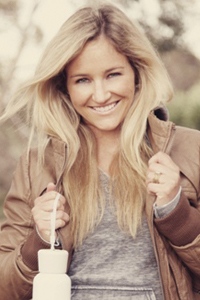 Professional snowboarder Gretchen Bleiler is more of a beauty girl than you'd suspect. "I want to look good!" she says. "I use tinted moisturizer, eyeliner, and mascara." And she can't say enough about the importance of SPF. "Being on the mountains in wintertime is hard on your skin," she says. "It's really important to apply sunscreen -- and keep applying."
She also stresses the importance of a holistic health and beauty approach. "As a professional athlete, it's my job to be healthy and have rituals and habits to make me the best athlete I can be," she says. That's why she recently partnered with
Listerine
, to support the American Heart Association's "My Heart My Life" campaign, which encourages Americans to live healthy lives.
"Taking care of your teeth is part of that," says Bleiler. "Did you know that when you brush your teeth you miss 75 percent of your mouth?"