Posted by Total Beauty 02/13/12 at 01:01PM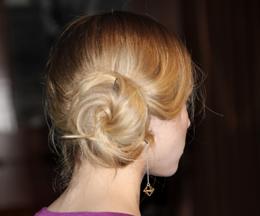 This perfect mix of structure and softness would be a great look for your next date. You can leave the waves down or pin them up into a cute side bun. ION Studio's Marcos Diaz shares how to get the look from the Hyden Yoo show at Mercedes Benz New York Fashion Week Fall 2012:
1. Spray hair with
Davines Defining Texturizer
, $19.
2. Blow dry your hair using
ONE Styling's NEW Epic Dryer
, $240, set to a negative charge. Negative ions neutralize the positive charge, which causes frizz.
3. Create a deep side part and secure it with a rubber band behind the ear. Then secure the front bangs with a bobby pin.
4. Using a 1-inch curling iron, create imperfect waves in the hair.
5. Take both sections and create a side bun just behind the ear and pin it.
6. Spray hair with
Davines Defining Invisible Hairspray
, $21.25.
7. Finish with a thin coat of
Davines OI/OIL
, $39.50 for added shine.