Posted by Total Beauty 02/14/12 at 09:00AM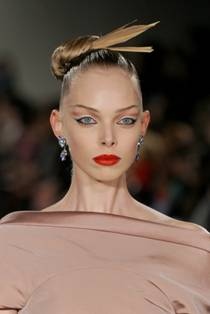 Tired of wearing the same top-knot style bun as everyone else this season? Shake things up and try an edgier version of this beloved low-maintenance hairstyle. John Frieda's Global Creative Consultant Luigi Murenu created this punk geisha look for Zac Posen's 2012 fall collection at Mercedes Benz New York Fashion Week, blending the "timeless glamour of the 1950's with the allure of Japanese sophistication." Here's how to create this fashion-forward look:
1. Apply the new
John Frieda Frizz-Ease Sheer Solution Lightweight Frizz Control
, $9.99 on damp hair, and blow dry to smooth hair and fight frizz.
2. Put hair up into a high ponytail using a brush. To get a ponytail to be at the perfect height for your head, pull hair that is parallel from the outer corner of the eye back. Secure the ponytail with elastic, and leave about 3 inches of the ends out.
3. Spray hair with
John Frieda Luxurious Volume Extra Old Hairspray
, $6.99.
4. Roll the ponytail under to the left side to make a semi side bun, and pin in place.
5. Straighten the remaining 3 inches of ponytail that is sticking out, and position it so that it's going upward for that modern geisha feel. Use
John Frieda FullRepair Touch Up Flyaway Tamer
, $9.99, to smooth out any flyaways.