Posted by Total Beauty 01/04/13 at 11:34AM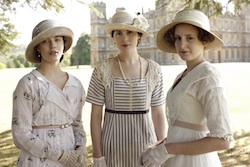 Can you think of a better end to a lazy Sunday than putting your feet up and treating yourself to a facial mask as you soak in the drama of Downton Abbey's Season 3 premiere? Neither can we. Nor can beauty brand Elemis, for that matter.

The leading British skin care and spa brand is celebrating the period drama's return on January 6th with new Upstairs/Downstairs facial treatments for Downton fans to experience while they tune in each week. Each treatment, which features ingredients popular in the early 1900s (think lavender, honey and oats), comes in a DIY Downstairs recipe version (provided via Twitter to those who follow @ElemisUSA) that you can concoct at home and in an Upstairs-worthy version in the form of a high-quality Elemis product that is ready to use.

Regardless of your social standing, you can also win weekly prizes from the British brand by tweeting @ElemisUSA with the hashtag #BritishBeauty and #Elemis while watching the show and get 25 percent off featured Upstairs products on TimetoSpa.com with the code BRITISHBEAUTY. Pip pip!