Posted by Total Beauty 01/03/13 at 11:58AM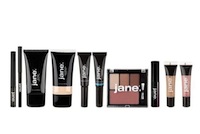 When we think of the '90s, a few things come to mind: Pin thin eyebrows, scrunchies, and Jane Cosmetics. Although the first two won't be making a comeback this year, the beloved beauty brand actually is.

After disappearing from shelves in 2009, Jane Cosmetics has relaunched its product line this month online and will be available in drugstores in March.

Along with the classic Jane lip glosses that we all reminisce about, the product line also includes a new array of metallic eyeshadows and waterproof mascaras.

If you're feeling guilty about stocking up merely for nostalgia sake, here's something to consider: Jane has also created the Friends of Jane Network, which partners up with charities that help women who share a love of fashion and beauty.

The Friends of Jane Lip Collection will give 100 percent of the proceeds directly toward the various charities Jane is working with.

And if charity isn't enough motivation to go and splurge on all your favorite Jane products, the company has kept their insanely low prices ranging from $6 to $10.

If you ask us, there is always room in our beauty bags for some '90s classics.

Which Jane products are you stoked to stock up on in 2013?