My New Beauty Muse: Jessica Chastain

Posted 09/22/11 at 09:54AM by Audrey Fine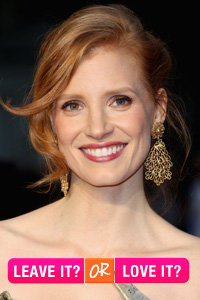 I'll admit that as recently as six months ago, I hadn't the foggiest notion as to who Jessica Chastain was. And then, bam! Suddenly she was everywhere.
From starring in "The Tree of Life" opposite Brad Pitt to knocking 'em dead in "The Help" to mixing it up with Dame Helen Mirren in "The Debt," the 30-year-old actress has arrived. And not a moment too soon.
Last September I
cited Blake Lively as my beauty muse
. And, why not? She's, well,
lively
, and beautiful, and winsome -- and she's also about 12-years-old. I've decided to become more age appropriate in my admiration of celebrity beauty and Ms. Chastain fits that bill.
Just look at her on the red carpet last night in London as she premiered "The Debt." Her natural makeup and hair exemplify understated glamour and also help her pull off an avant garde Vivienne Westwood gown without looking too over the top.
A simple bronze shadow, defined brows, pretty pink berry lips, and a chic-yet-attainable updo with wispy pieces framing her face. Beautiful.
Plus, don't even get me started on that complexion. Milk and honey all the way -- and something my "I always want to be the tannest girl in high school" skin will never, ever be. Sigh.
So, yes, I hereby decree that Jessica Chastain is my new beauty "it girl." Who's yours these days?

Our Expert Guides