My Four Favorite Men's Colognes

Posted 11/04/10 at 03:41PM by Audrey Fine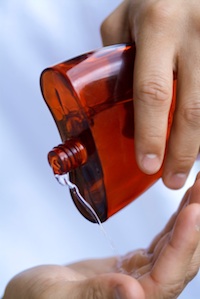 My husband doesn't wear cologne. Not because he's too incredibly manly, but because he doesn't have a sense of smell. While that's weird (and kinda sad) for him, it's also a bummer for yours truly because scents are important to me. A whiff of a stranger's familiar perfume can take me back to a scarily specific place and time -- as can certain suntan oils, cooking spices and even random cleaning products.
And, never is that sensation of traveling back to another period in my life more concrete than when I stop by the men's cologne area in a department store to take nostalgic sniffs of the fragrances old boyfriends (real
and
imagined) used to wear.
These are the ones I've always loved -- they still get me every time ...
No. 1: Azzaro, $36.50, for 1.7 oz.:
My first crush (an impossibly handsome French ski instructor) wore this spicy, masculine scent. Its blend of wood, musk, basil and sandalwood is so lovely that for years I used it myself.
No. 2: Aramis, $39.50 for 3.7 oz.:
Estee Lauder's classic scent was launched in 1965 and to this day the bergamot, clover, gardenia and jasmine notes bring me right back to the first boy I loved. (Even though he broke my heart. Twice.)
No. 3: Drakkar Noir, $39.50 for 1.7 oz.:
Any girl who went clubbing in the 1990s is all too familiar with this ubiquitous French scent. Its sharp, spicy fragrance made a distinct statement, "I'm here. Let's get the party started." As did sweet Eddy from Atlantic Beach, NY.
No. 4: Bvlgari Pour Homme, $42 for 1 oz.:
This fragrance has been around since '96 and is perfect for any guy looking to be discreet with his scent. It's understated and elegant and instantly conjures that certain someone I used to (secretly) lust after at work. Sigh ...
What scents take you back?
Speaking of scents, what's your take on products that make you smell like a baked good? Thumbs up or down?
See my opinion about sweet-smelling beauty products and voice yours here.
Are you not into perfume either, but
do
have a sense of smell? Check out these
perfume alternatives.

Our Expert Guides