My Winner for the Prettiest Golden Globe Hairstyle and Makeup Look Goes to...

Posted 01/17/11 at 01:16PM by Audrey Fine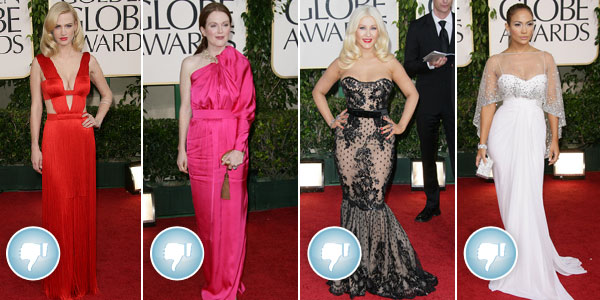 There's a reason I don't write fashion reviews for a living -- I'm, um, what do you call it? a little too "blunt" for that. Yes, blunt. That's it.
For instance, if I were going to chime in on the "Worst Dress of the 2011 Golden Globe Awards," poor January Jones and her ribcage-exposing strappy Valentino gown (which she evidently saw on a runway in navy custom ordered in red --
not
a good call) and Julianne Moore in that poufy, one-shouldered, hot pink Lanvin number wouldn't fare so well. (And don't even get me started on Christina Aguilera's tacky lace and Jennifer Lopez's "Skating with the Stars" worthy capelet...)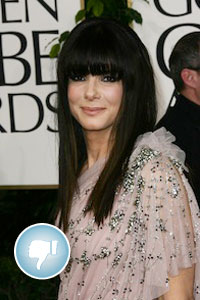 When it comes to hair and makeup, however, somehow I can be much more pragmatic (read: forgiving) in my assessments -- these are people's God-given looks after all, and it's just not nice to get too picky. For example, take Sandra Bullock's new heavy, brow-grazing bangs. I'm not a fan. I think she looked entirely too goth for the Globes (and, pretty much for life as a grown up), but I just love Sandy B. and can look beyond them. And, I have to admit, I was more bummed that she squelched all those Ryan Reynolds romance rumors than I was about her new hairstyle.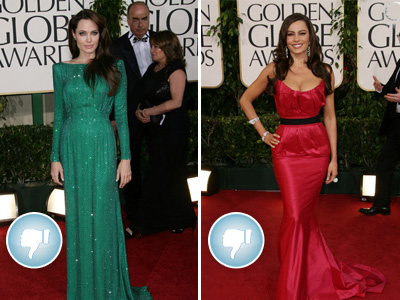 And, yeah, Angelina Jolie looked pretty in that sparkly green Atelier Versace gown but why, oh why, is that woman incapable of
ever
pulling her hair back? Same goes for Sofia Vergara whose va-va-voom-iness in a hot pink Vera Wang gown was certainly in overdrive but whose hair could certainly have benefitted from being put back into a low, sleek bun.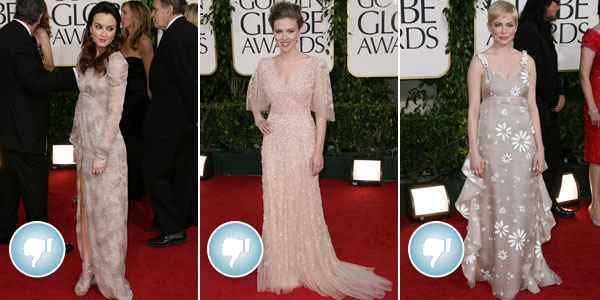 Have to say, though, that I loved, Dianna Agron's look. The "Glee" star, like so many others (Leighton Meester, ScarJo, Michelle Williams) last night, chose to wear a pale "sandblasted" color. She looked stunning in her beige silk chiffon, strapless J. Mendel creation. And her hair and makeup were the perfect complement -- she screamed old Hollywood glamour.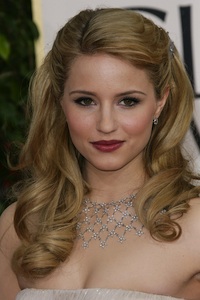 As Chanel makeup artist Angela Levin said, "Dianna's look was all about a bold, dark lip to offset her gorgeous dress!" And it worked to a tee. Here's how Levin achieved it.
Foundation
: To make her skin picture perfect, Levin used
Cle De Peau Silky Cream Foundation in shade 010
, $120.
Brows
: Levin says that she "defined her brows" with
Chanel Le Crayon Sourcils Precision Brow Definer Brow Shaper in Blond Clair
, $29.
Eyes
: "On her lids, I used the
Chanel Ombres Contraste Duo in Khaki-Clair
, $40 and
Shiseido The Makeup Fine Eyeliner in Dark Brown
, $23 to line the eyes. I then applied two coats of
Chanel Inimitable Mascara Multi-Dimensional in Noir
, $34.
Lips
: "To complete the look, I lined her lips with
Bobbi Brown Lip Liner in Henna
, $20 and applied
Chanel Rouge Coco Hydrating Creme Lip Colour in Ballet Russe
, $27."
Top it all off with big-barreled curls a la Veronica Lake and there you have it -- old Hollywood glamour to the nth degree. Celebrity hairstylist Danilo and Agron agreed that a half-up do would be the perfect style for her strapless gown. "When you style hair for the red carpet you have to take into account that it
must
look good from every angle," he said. "I wanted her hair to have the ability to be undone, have movement, and be shiny, but didn't want her to worry about it all night, which is why a half-up style was the perfect choice." (Here's how to create the look using
pin curls
.)
Who wore your favorite look? Do you disagree with my estimations? Chime in -- would love to hear your thoughts.

Our Expert Guides