How to Copy Sofia Vergara's SAG Awards Makeup Look

Posted 01/31/11 at 05:58PM by Audrey Fine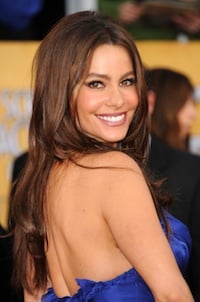 The stars were out in full force at last night's
Screen Actors Guild Awards
and, although all the gals were decked out to the max, no one could hold a candle to
Modern Family
's Sofia Vergara.
The Colombian beauty (who, along with her cast mates, took home the award for "best ensemble in a comedy") looked ravishing in a blue Roberto Cavalli gown (the plunging neckline of which was a male fan fave) and, thanks to the handiwork of celebrity makeup artist Kayleen McAdams, she looked every bit as glamorous as the night itself.
"We wanted to create a Brigitte Bardot-inspired beauty look with a lot of lashes and a glamorous smoky eye," McAdams says. "It was a classic Sofia beauty look, but just amped up a bit."
Here's how she did it:
Face
: "One of the tricks I used with Sofia was to put a cream highlighter on her before we applied any other makeup," McAdams says. "It helped to give her skin that warm glow but the result was very subtle and natural. I used a creamy pearl highlighter and applied it along her cheekbones, temple and eyelid before applying her concealer." Then "I used just a touch of concealer under her eyes and applied
CoverGirl NatureLuxe Silk Foundation in Chestnut
, $12.99, followed by
CoverGirl Clean Pressed Powder Oil Control in Soft Honey
, $6.99 and finished the skin with
CoverGirl Cheekers Blush in Classic Pink
, $3.99 [applied] on the apples of her cheeks."
Eyes
: "The trick to keeping Sofia's eyes sexy but still age appropriate is the amount of shadow we used on her eyes," McAdams explains. "Obviously we wanted that smoky eye but we created it by using lots of liner on the top lid and tons of mascara but kept the shadow to a minimum. Focus on the liner and lashes and let them be the focus."
To get the look "I first lined the top of the eyes with
CoverGirl Liquiline Blast Eyeliner in Brown Blaze
, $6.99 very close to the lashline and the bottom of the eye from the inner to outer corner. I made the line on the top very thick and smoky and then blended it out to a cat-eye shape. I then applied
CoverGirl Eye Enhancers 1-Kit Shadow in Coffee Shop
, $5.49 over the liner to soften it and brought that color all the way up to the crease of her eye. Next I added a thin line of
CoverGirl LineExact Liquid Liner in Black Brown
, $6.49 right at the lashline to add thickness to her lashes and finished the eye with lots of lashes; 3 coats of
CoverGirl LashBlast Fusion in Very Black
, $7 on the top and once on the bottom."
Lips
: "For Sofia's mauve lip, I used
CoverGirl Lip Perfection Lipstick in Entwined
, $6.99 for rich color with a creamy finish."
Will you try to copy this look at home? What about January Jones'
bold brow
look?

Our Expert Guides