My VIP (Very Impressive Product) Pick of the Week

Posted 01/28/11 at 03:21PM by Audrey Fine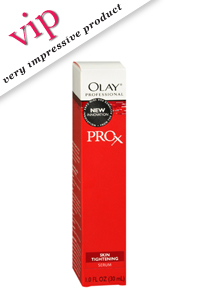 We're rolling out a new feature today! Every week I'll be sharing one of my favorite (all-time or newly discovered) beauty items in a little feature I like to call "
Very Impressive Products
". So, without further ado, here's the first one...
The Product
:
Olay Professionals Pro-X Skin Tightening Serum
The Price
: $41
The Promise
: The serum is designed to tighten skin and reduce the look of expression lines while hydrating to help produce fuller, more firm skin.
The Ingredients:
The serum boasts niacinamide, caffeine and several peptides proven to tighten skin.
The Real Deal
: It does! I started using the serum a few months ago under my moisturizer in the morning and I have really noticed a difference in how taut it feels -- and it's definitely more plump and less, well, deflated. (*Note -- you're
supposed
to use it both morning
and
night but I use something else before bed so, who knows? My results could be even
more
significant if I followed the directions.)
The Upshot
: Based on the results I've had, I'll definitely keep using it and will recommend it to friends (and readers)!
Have a favorite product that you want to brag about? Here's your forum!
And, how about product
multi-taskers
? Love any of those?

Our Expert Guides