How to Copy Katy Perry's VMA Makeup

Posted 08/29/11 at 06:23AM by Audrey Fine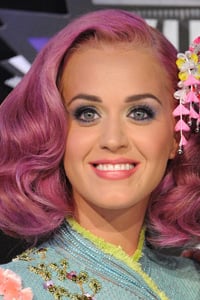 Yeah, yeah, I know I'm a tad long in the tooth to get excited about the Video Music Awards, but I do. So sue me.
Unlike other, more staid award shows (I'm talking to YOU, Oscars), you never quite know what to expect with the VMAs (wacky Gaga trying to kiss Britney, for example) and there's always great eye candy to ogle.
Take, for instance, Katy Perry's cotton candy head look last night. I'm not saying I'm going to run out for a pink dye job (I've had enough hair trauma lately) but Mrs. Brand is just adorable and pulled it off with aplomb -- and walked away with two Moon Men while she was at it.
We talked to her makeup artist for the event, Jake Bailey, who said Perry's "overall look was bright and fresh to play off her colorful [Atelier Versace] dress." And then he was nice enough to walk us through the how-tos.
"On the eyes, I first applied
COVERGIRL LiqulineBlast Eyeliner in Blue Boom
, $5.49, along the lashline and then blended
COVERGIRL Intense ShadowBlast in Blue Bomb
, $8.99, over the entire lid.
"I used ShadowBlast in Beige Blaze on the inner corner of the eye and then blended ShadowBlast in Forever Pink all the way up to the brow bone. The blue and pink colors mixed together created the gorgeous lavender shade.
"Intense ShadowBlast worked really well for this look because not only did the liquid formula blend together easily, but the built-in primer also helped it stay in place all night.
"I finished the eye with
NatureLuxe Mousse Mascara in Black
, $8.49, on the top and bottom lashes and slightly smudged it into the lashline for a bold look.
"I highlighted her cheeks with a coral shimmer blush and then finished the look with
COVERGIRL LipPerfection lipcolor in Temptress
, $6.99, the perfect balance of pink and coral for lips that really popped."
There you have it -- how to look like Katy Perry in a couple of easy steps, minus the 'do. My only problem? I stayed up way too late watching the show and have the puffy eyes to prove it. Good thing I've got these
emergency makeup tips for tired skin
.

Our Expert Guides