Confession: I Love Beauty Products that Leave Me Smelling Like a Cupcake

Posted 10/19/10 at 05:45PM by Total Beauty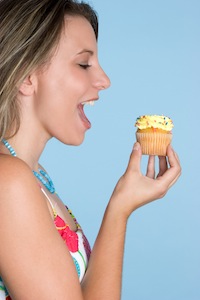 Lately, I've been absolutely obsessed with
Whoopie! Shea Butter Cream by Farmhouse Fresh
, $30. It smells like the most delicious wedding cake you've ever tasted, and I instantly get happy when I take a whiff. In fact, I'm SO passionate about this product, I just bought three jars -- one for home, one for office, and one for my purse. I'm never too far from my Whoopie! fix.
Is it a little weird to want to smell like a baked good? Maybe -- but I just can't help myself. This got me to thinking and researching: What other beauty products smell as delicious as this one does?
Here are some other tasty smelling products I discovered:
Too Faced Chocolate-Scented Bronzing Powder
, $28
Farmhouse Fresh Strawberry Smash Double Moisturizer
, $23
Besame Cosmetics Gingerbread-Scented Mascara
, $16
Demeter Fragrance Library Pumpkin Pie Cologne Spray
, $20
Philosophy Red Velvet Cake 3-in-1 Bath and Shower Gel
, $16
But here are a few tips to keep in mind when using sweet-smelling products:
Tip 1: Less is more. Don't overpower yourself with the scent or you run the risk of smelling like a supermarket bakery.
Tip 2: Don't mix too many scents. One scented product equals good. Three competing scents equals vomit inducing scent (well, that's a tad dramatic, but you get the idea).
What are your favorite sweet-smelling products or do you loathe smelling like food? Comment below.
To find out what lotions and skin products are right for you, check out our
Skin Matrix tool
.
Mix up your own beauty concoctions with these
homemade beauty product recipes
.
By Julie Taylor

Our Expert Guides