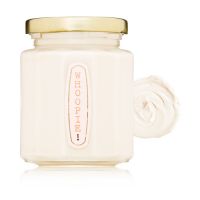 Farmhouse Fresh WHOOPIE! Shea Butter Cream
As low as
Luxury Never Smelled So Good!

In another review, I talked about the fact that my mom had to have plastic surgery after an emergency quadruple-bypass operation a decade ago. I was completely fascinated by the physician's office. It gleamed; polished shelves overflowing with glistening bottles and tubes of skin products called my name as I wandered around, I swear! One day I asked the surgeon which brand(s) he most recommende...read mored. He was quite honest and surprisingly said, "Forget about what you see here! It is overpriced. I supply it because patients ask for it by name. When you want to care for your skin, turn to Shea and Cocoa Butters." I will never forgot that. He said these natural ingredients healed and hydrated more efficaciously than anything man-made. I received Farmhouse Fresh's "Whoopie! Cream Shea Butter" as a gift a few years ago. It has a delectable smell--get ready to swoon! It is an exact replicate of white velvet cake AND frosting (how they make the fragrance of both cake and frosting I will never understand). This scrumptious light-textured cream is comprised of 90% Shea Butter, with Vitamin E, Jojoba, and Soybean Oils included to comfort even the most parched skin. Slather it everywhere to combat dry skin (don't forget oft-neglected elbows and feet as well as arms, legs, and décolleté). It seeps in quickly, leaving the luscious scent behind along with silkened, renewed skin. There is no heavy, greasy feel at all. This is Paraben- and Sulfate-free, so those of conscious of ingredients can relax. Thirty dollars is pricey for a lovely jar, but this is such a wonderful, uplifting splurge that I keep buying a new bottle when I finish one (once opened, the product begins to turn brown with time, so you must use it consistently). Farmhouse Fresh makes a huge variety of great products--I also enjoy their "One Fine Day Flawless Face Polish" to exfoliate. It has a Shea-Sugar base, meant for those with sensitive skin, including Rosacea. I am a convert to this company's products!

So hydrating!

This rich, luxurious lotion goes to work immediately soothing my skin and making me feel ohsosoft. And the thick scent gives me a flashback to the delicious whoopie pies my mother used to buy us.

Back
to top