Forget the Soda & Snack, I'm Hitting a Beauty Product Vending Machine

Posted 10/18/10 at 12:10PM by Total Beauty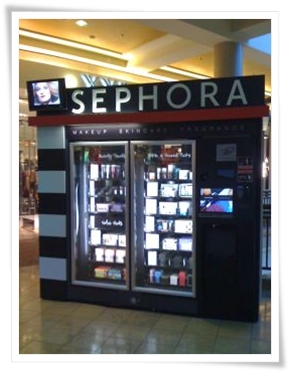 I'm a girl on the go -- hopping from one airport to the next, thanks to my job. So when I saw a
Sephora
vending machine in the Indianapolis airport, it was the equivalency of seeing the US Embassy when you're trapped in a foreign country. Here's the deal with my dream machine: The vending machines offer 50 of Sephora's most popular makeup, skin care and fragrance sets, and they carry individual beauty products from a variety of brands, including
Bare Escentuals
,
Korres
, Smashbox, Juicy Couture, Dior Beauty, Philosophy, Peter Thomas Roth,
Murad
and StriVectin. Luckily, just when I ran out of dry shampoo and thought I would have to resort to baby powder, all I had to do was insert my credit card, press B9 and voila, a bottle of
Oscar Blandi Pronto Dry Shampoo
was dispensed. Amazing!
It turns out there's more good news: Proactive and The Body Shop are also launching beauty vending machines at malls, airports and supermarkets across the country. Word on the beauty street is that a company called U-Tique is also launching a beauty vending machine with brands like Dove, Smashbox, and
Frederic Fekkai
. How genius is this? The only downfall: I spend so much time in the airport that my credit card bill might get a little,
well
, scary. At least I'll never have to worry about running out of my fave beauty products though.
Have you ever bought a beauty product from a vending machine? Would you? Please share, would love to know.
Not sure if buying products out of vending machines is for you? How about getting beauty advice from a pretty nifty tool?
Check out this Color Finder if you're intrigued.
Or, see the product I used to ditch frizz on a rainy day.
By Rebekah George


Our Expert Guides