My Animal Print Addiction

Posted 10/11/11 at 06:06AM by Rebekah George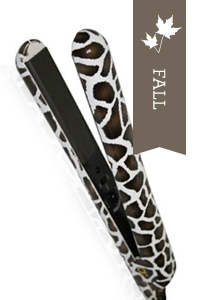 This fall I've become a big animal print fan. You might even say I've gone "ape" over this stuff. (Groan.) Leopard print shirt? Check. Cheetah bag? Have it. Zebra-patterned shoes? Yup, those too.
And, judging by all the women I see walking down the street in NYC, I'm not the only one who's obsessed. In fact, this time-favored trend is so hot this season that it's transcended the fashion world and snaked its way into beauty land too. Here are a few of the products I'm tossing into my (cheetah) bag.
Sally Hansen Salon Effects in Kitty Kitty
, $10: I am a huge fan of these strips in general but they are especially great when you are traveling or have zero time for a manicure. A word of advice: If you wear animal print nails, keep your makeup and outfit on the subdued side or you'll risk looking trashy.
Amika Mini Leopard Styler
, $25: When it comes to styling my hair, having the right tools is essential. Mini flat irons are great for getting your bangs, layers, and even those annoying baby hairs around your forehead flat. Plus, this one is made with ceramic plates, so it keeps damage to a minimum.
Mally Beauty Double Duty Perfect Tweezers
, $20: A slanted tweezer is an essential in your makeup bag 'cause you never know when you'll need to pluck a stray hair. I'm a fan of these because they work very well and are surprisingly less expensive than other high-end tweezers on the market.
Violent Lips Temporary Tattoos
, $15: Whether or not lip stickers will replace gloss as women's go-to product remains to be seen, but these animal print stickers are
fun
. Although I'm not going to toss my gloss just yet ...
Do you have any favorite animal-printed products that I missed? Please share. I'd love to learn about them!
And, speaking of products ... have you seen this
Sephora vending machine
? What do you think of it?

Our Expert Guides