Reader Q&A: "Can I Really Create the Illusion of Cheekbones with Makeup?"

Posted 10/10/11 at 05:49AM by Audrey Fine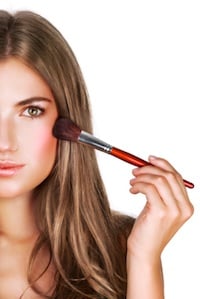 Molly from Arizona recently wrote in to ask, "Can I really create the illusion of cheekbones with makeup?" Molly, as someone who used to
have
cheekbones before father time's gnarled hands ravaged her face, I confess that I've been wondering the exact same thing.
I mean, you always hear/read/see magazine articles about "contouring" to "create" the look, but, is it
really
doable?
Turns out, it is! I consulted a bunch of makeup know-it-alls to get their consensus on the best way to fake those angles we're craving. Here are their three most useful tips.
Tip 1: To create the look of high, defined cheekbones where there aren't any, apply a slightly darker blush under your cheekbones (they're there even if they're not readily visible). Then dab on a highlighter (like
Nars the Multiple
, $38) to the top of the bone, right under the outer edge of your eyes. This will help to catch the light while the darker blush will give the illusion of depth, making your face seem more defined.
Tip 2: If you really want to make your cheekbones "pop" in a natural-looking way, follow the above two steps and finish by adding a swirl of pink or peach blush to the apples your cheeks. To find them, just smile at yourself in the mirror and they'll appear. (Consult our
Color Finder
to see which shades work best for you.)
Tip 3: If you don't want to deal with trying to figure out which shades go where and would rather not spring for a bunch of different products, try a blush combo (like
CoverGirl Instant Cheekbones Contouring Blush
, $5.49, or
Stila Baked Cheek Duo: Pink Glow
, $26). Multi-purpose products like these are a snap to use and take the guesswork out of finding the appropriate shades yourself.
And there you have them -- the cheekbones you've always dreamed of.
Want more makeup how-to tips?
Click here
.

Our Expert Guides