Hollywood Halloween: Become Your Favorite Celeb for a Day [SLIDESHOW]

Posted 10/13/11 at 06:10AM by Charli Schuler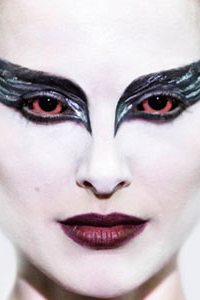 Cards on the table: Halloween is my favorite holiday. I love being able to go crazy with makeup and not get strange looks. Of course, coming up with the perfect costume can be problematic and, if you're like me, you deliberate too long and end up fighting crowds at your local
Fangs-R-Us
for whatever dregs remain. Not fun.
My recommendation: Go for one of these celebrity-inspired looks. They're easier to pull off than you might think, and they're great conversation starters. Best of all, after walking through each of them with MAC Studio Artist Chantel Miller, I'm convinced you can pull off the looks using products that you already own. (And if you do have to buy an eyeliner or two, Miller has great tips on how you can use them long after Halloween is over.)
As for what to wear, check your closet. Believe it or not, over the years I've found exactly what I needed to dress up as Marilyn Manson (leather pants, coat, cap, black wig) and Amy Winehouse (jeans, tank top, ballet flats, same black wig) hanging right there among my regular clothes.
So, what do you say? Are you game for a Hollywood Halloween? Let's get this party started ...
See my 2011 Halloween costume recommendations now ...

Our Expert Guides