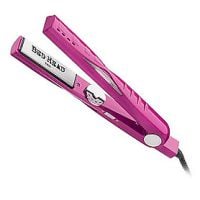 Editor's Rating & Review
This brightly-colored, tourmaline-charged ceramic iron heats up in what seems like seconds. It takes the guess work out of what temperature is hot and what's too hot with two colored lights -- handy, but comical. The bummer? It's difficult to straighten the roots of your hair (important for curly textures) because the tongs are so thick. To get coarse, nape-of-neck hair smooth, I had to crank the heat up to the max, 400 degrees -- ouch.
Reviewed by Kristen on 09/25/2007

How we review products
Used This for 7 years

I bought this Bed head flat iron when i was 15 years old with my pay check at rite aid and now i am 22 years old. I only bought it at the time because it was pink which is my favorite color. I was not expecting to get no more than 1 year out of it. I took every last penny to this that i had saved up. I just put this to rest two weeks ago because it needed to finally be retired after using it so mu...read morech over the years. I feel in love with this flat iron. I have gotten so much use out of this. It lasted so long and i found it did not lose anything over the years. It always heated up extra super quick and always gave me perfect results. I mean this shocked me so muchI ended paying seventy dollars for this when i first got it and it was worth every penny. Today is probably only cost like thirty dollars now. It always made my hair smooth and i felt nothing changed about it over the years. I can not express to you how reliable this flat iron is Even when the paint chipped from using it so much and having it for such a long period of time it continued to everything it claimed it would do. I love bed head products so much, they really do last a very long time and i see it had a super long cord that probably would stretch to about three feet long or more. It was like it was unbreakable or something. i can honestly say i highly recommend this bed head flat iron for all hair types. it heats up very fast with in seconds of turning on. Go get your now seriously.

ok

the tourmaline really helps

Great iron.

Now how do I pull it apart??