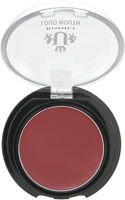 Editor's Rating & Review
Is it just us, or is it really annoying to apply a colored gloss with your finger after the age of, oh, 6? Especially a gloss that, true to its promise, is "deeply hued"? Give us a wand, people. Sure, the pigments come in rich and edgy shades (like Smooch and Kiss of Death), as well as pretty, light tones, but we're confused by the word "gloss." This "dries down" to a powdery, stain-like finish, but you'll have to add another product if shine is what you're after.
Reviewed by Kristen on 09/25/2007

How we review products
Hard to Apply Color

I like the rich color of this gloss, but it is so hard to apply with your finger. I like the dramatic bold color, but it stains not only your lips but your finger too.

yucky mucky

not worht buying

Oh well Oh well

Definitely not a gloss, however I feel like there are some aspects of this product that are pretty cool. It's not quite a stain, I find it's more similar to a matte lipstick feel. The colors are very vibrant. The look I get with these (I have 3 shades, a bright red being my fave) is sort of a matte look that is sort of grungy with some eyeliner. It can get quite messy with the hight pigmentation though.
Back
to top