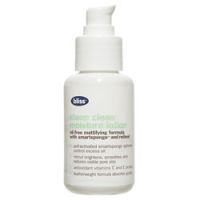 Goes on smooth, not too thick...

This is a nice lotion for acne skin. The consistency is that of a lotion, it is not creamy and "hugging" the skin, not allowing it to breath. When I had acne years ago it worked nicely on my skin. It's good if you don't mind the ingredients. I prefer a natural approach to skincare now.

Great moisturizer for "problem-prone" skin

I really have liked this moisturizer for my skin that would tend to get clogged and breakout. It is light and absorbs quickly. Two minor issues with it though - I really wish it had an SPF rating. I really don't like having to slather on yet another product to ensure my skin is protected. Adding more and more products to my routine is a pain and tends to lead to breakouts for me. And, as one ...read moreother reviewer noted, once you get about 2/3 into the bottle the product is quite difficult to get out - you have to try to stir it around or bang it out. Pretty frustrating.

Perfect for oily skin!

I have oily skin and have always stayed away from moisturizers, until I discovered this!!
Back
to top