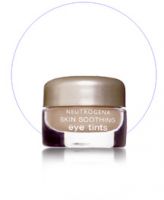 Wait....what?

There's nothing soothing about these. They crease and fade throughout the day.

You have to be kidding!

I have used the Pearl Shimmer Eye Tint for several years and LOVE it. It cools, and adds a little shimmer under the eye BUT for those who say it creases...maybe you need to use a little less. It only takes a very thin application to give the best results. My only frustration is finding it! I couldn't even find it on the Neutrogena site. When I do figure out the best vendor I'll stock up!

Eh...

The only thing I use this for is to help with puffiness on my eyes (like after I have a crying fit and can barely open them). The cooling sensation definitely helps to de-puff. Other than that I think it is pretty worthless. It creases like you wouldn't believe and the color is not attractive. I only use this when I'm home alone and need to get ready where no one will see me. Once I wipe it o...read moreff then I apply my makeup, but I would never ever go outside with this on. The cooling sensation is the only part that saves this product!
Back
to top