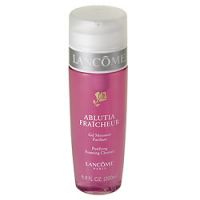 lancome ablutia fraicheur purifying foaming cleanser

Dear Lancome, Why would you discontinue this desired and much sought after product? It's quality was unsurpassed; the gel left skin feeling soft and smooth, it didn't add to the red,irritated problem many women suffer from, it smelled great, the price was right. What can be done to bring this product back? There are simply too many loyal users of this product to let it go the way of the dinosa...read moreur ! PLEASE HELP BRING LANCOME ABLUTIA FRAICHEUR PURIFYING FOAMING CLEANSER BACK INTO THE MARKET PLACE..........WE NEED OUR PINK GEL FIX ! JOAN VIRAG

Pease bring this product back on the market

I'm a 25 year loyal customer of Lancome and love this product. I was given no heads up that they were removing the product or else I would have purchased a full supply. If you have suggestions on where I can stil find it, please email me at agood2819@gmail.com thank you

Try it

I love this. My sensetive skin never gets blotchy with this one.
Back
to top