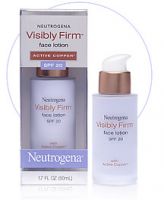 good

my 42 year old mom used this for a long time and she has really great skin. it mosturizes but i'm not too sure about firming. anyway, i love that it has SPF but i think its best quality is that it moisturizes really well.

Still one of the Best!

This was the first firming lotion that I ever tried a few years ago when I noticed that my skin was starting to lose it's firmness. I'm middle-aged and really did not know much about anti-aging creams and lotions at the time because I was lucky enough to have good genes that kept my skin in good condition for an extra long time. I also have very oily skin and so was a little worried that creams ...read moreand lotions would exacerbate that problem. Thank goodness, I had never had acne, though! Anyway, I picked up a bottle of this at WalMart as a start on trying to get my face back to feeling as firm as it had before. It turned out to be a very good product! My skin did seem tighter, in a good way, and did not feel as slack and "wobbly". I really liked it, but am somewhat of a "product whore" and have tried everything else that comes along since I finished that first bottle. I'm currently using Lancome's "Secret de Vie" and another one by Sothy's Paris; but, you know what? I think when I finish them up, I'm going back to Neutrogena Visibly Firm Lotion SPF 20! Afer trying everything else, at every price, I really think that it works better than all this high-end stuff. I really hadn't thought about it for quite a while until I read the reviews here. I think maybe I hit on the right answer for me at the very beginning!

cheaper than most

Works very well and much cheaper than most. I rocommend this to anyone who want a visibly firmer look.
Back
to top