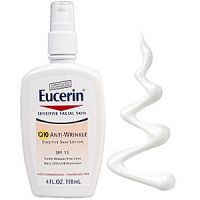 Guest's Rating & Review
The desire to buy the dermatologist-recommended, fragrance-free, SPF 15 Eucerin Q10 Anti-Wrinkle Lotion is natural. (What woman doesn't love the sound of "anti-wrinkle"?) The fast-absorbing formula's thin, somewhat watery consistency doesn't pack enough moisturizing punch to fully hydrate very dry skin types but it does satisfactorily balance combination or normal, sensitive skin. As for the "anti-wrinkle" aspect, you may not see dramatic results but some have reported smoothed fine lines with dedicated use.
Reviewed by special guest on 09/26/2008

Great daily moisturizer

I used to use the Eucerin SPF 15 moisturizer with alpha-hydroxy, but when that was discontinued, I decided to try this one. I love it. It's not greasy at all and soaks in pretty quickly. I love the fact that I have some SPF for daily wear, so that even when I'm caught outside, I have some protection. Plus the Co-Q10 to help prevent wrinkles. Overall, a great product for the price.

Love IT!

I have VERY sensitive skin and I'm over the age of 40. Finding a product that moisturizes without causing me to break out is very difficult. Finding one that reduces fine lines & wrinkles, while moisturizing, and not causing me to break out was virtually impossible -- until I found this lotion! I love it. My skin looks great, I am protected from harmful sun and it is AFFORDABLE! I really encourage people with sensitive skin to give this a try.

gail

I have rosacea and combo. skin. The product features attracted me. It made my face oily. It also feels it did not absorb well and did not help the redness with slight burning. Not worth the price either.
Back
to top