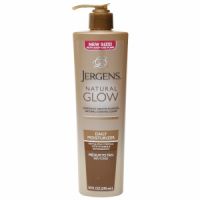 Perfect, Buildable Coverage!

I've learned to love my fair skin, but I do become annoyed with my pasty legs and arms, especially when bronzed goddesses parade past me. That's when I turn to Jergen's "Natural Glow Daily Moisturizer." It comes in two shades--"Fair to Medium" and "Medium to Tan." One of the best attributes is that coverage is completely buildable as to how much of a tan look you want to sport. This is a comple...read moretely streak-free, natural- looking product. It has NO annoying odor--I promise you this! A blend of Vitamin E and antioxidants hydrate and nourish skin while you become radiant. For best results, choose the shade that best fits your need and skin tone. Cleanse skin and exfoliate to rid yourself of rough, dry patches which may interfere with color. Apply evenly over skin with circular motions, using less in dry areas. Don't neglect any area--cover arms, legs, and décolleté. Feather it over feet, ankles, knees, and hands, including between fingers. Be sure to wash the palms of your hands thoroughly after application and allow skin to dry completely before dressing. Avoid getting wet for at least three hours; that means no swimming, exercising (yeah!), or showering. It also means trying not to perspire (easier said than done, I know). Repeat this process daily for seven days. If you want more color, just continue until you have reached the shade you want or choose the darker one available. In order to maintain your new glow, maintain by applying again one to two times weekly (adjust as needed). I can now wear shorts and tank tops proudly again, not being mistaken for the color white I may sport! Don't forget--this product can be used by men and women. Give your boyfriend or husband a "massage" with this moisturizer, following the aforementioned instructions. After the seventh day, he will be in LOVE--and looking better than ever!

It looks so fake!

I can't tell you how many comment I got on my skin while using this! it built up EVERYWHERE I put it no matter , how much I exfoliated, how much I moisturized it left and orange patch on my skin. I do like that is gradual but the smell is terrible it smells like stale Doritos (as most self tanners do) but there are many option that are truly non scented

Orange

Works okay, and doesn't turn orange for awhile. After many uses you do get an orange tint. Has that weird self tanner smell.
Back
to top