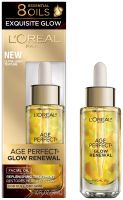 L'Oréal Age Renewal Glow Renewal Facial Oil
As low as
Really great oil, strong scent

I am really not usually a face oil person. I have tried several of the fancy, popular versions available at Sephora (such as Tarte's Maracuja oil) and I have not been even a little bit impressed. There usually is not anything I strongly dislike about these oils, they simply do not seem to improve my skin in any way that would make them worth my time and money. Thank goodness for samples! So then I...read more snagged a sample of this L'Oreal oil out of a magazine. I am always game to give a free magazine sample a try! This product is really, really great! I do not have that many noticeable signs of aging yet, but I like to take great care of my skin so it will hopefully stay that way. This oil is very lightweight. I liked how easily it absorbed into my skin. I did not super love the scent, which was strong enough that my husband noticed it, but it seemed to wear off pretty quickly, so I can forgive that. I did not think it was too greasy at all, just a nice light moisturizer. I used it at night before bed and it did not leave any greasy residue on my pillow or anything (always nice). The real treat was how my skin looked the next morning (especially after 2 or 3 days of use)! The package states "for dull, dry skin" and wow, yeah, it really is. After using this product, my skin was so much more radiant and healthy-looking! I love the non-greasy moisture and I have to say I did not realize that my skin was maybe a little bit dull until I used this and suddenly it was not dull at all anymore. After this sample I used a sample from a different brand (NUDE, available at Sephora) and while I would say I liked this second sample better (no strong scent, slightly better results), the L'Oreal product is less than half the cost. Less than half!! I am not a regular face oil user, but I might just be adding this one to my skincare routine because I really liked it.

Good Facial Oil

This oil has a lemony scent which I love! It has a light texture so very easy to spread and smooth out over the face. After initial application you might find your face glowing a little too much but I put this on before I go to sleep and let my skin absorb the oil overnight and the next morning my skin feels very smooth and nongreasy.
Back
to top