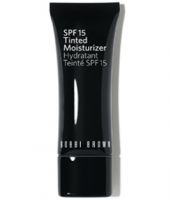 Favorite moisturizer

Love this stuff. I am ine of thise women who hates being without makeup. So I can do my nightly routine at night before bed like wash my face, and so on. Then I can use this, and because its tinted, it hides my flaws still.

It's Okay

I absolutely love Bobbi Brown products ever since my friend introduced them to me, so when I needed a tinted moisturizer I headed straight for Bobbi. I have very fair skin so it took almost forever to find a color that was not too dark on me, but that is a plus, there are so many shades that most everyone can find their match. I was really happy with it in the daylight and everything until all of ...read morea sudden it started looking too yellow for my skin. I have more pink-ish skin and this is my only problem with some of Bobbi's products is that they tend to have too much yellow undertones. But I still use the blush and other products religiously and my sister feels the tinted moisturizer fits her perfectly so it was not a waste.

MUST HAVE!

I'm Mexican but I'm darker then most. Some people have even asked me if my father was part black as well because he's so dark; but we're just naturally darker. Anyways it's really hard for me to find a coverage I like. My skin has never been a problem... I have a good color all year round, I don't tend to break out but I do have some unevenness around my eyes. So I've used MAC, Clinique, and Co...read morever girl but not until I used this was I ever really happy. I provides light coverage, SPF protection, and moisturizies. I just apply and go with this. I love it!!