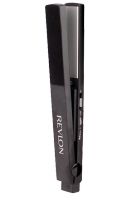 Fry's your hair

I wouldn't get any metal straightener, it fry's your hair. But out of any metal straightener, this one works the best. I had this in 6th grade and it worked but after a while, it fryed my hair.

Good Hair Straightener for the price

I Love Revlon products in general. I've been using this hair straightener for years! It heats up really fast and gets your hair poker straight look that lasts. I used this everyday and it lasted me about 2 1/2 years before i had to get a new one. Good Price and great quality.

Had it for 7 Years Now and Still Love It!

I love this straightener! I've had since my first one (literally) blew out in college. My roomate and others in my dorm loved it so much they all went out and got the same one. I have wavy, sometimes frizzy thin hair, but lots of it. It heats up really fast, and I love the fact that the plates are full sized. It lets you do more at once, my last one was only an inch and while I guess it gives ...read moreyou more control over certain areas I felt it was like a curling iron and almost made straightening my hair harder. My only complaint is that it doesn't have an automatic off after like 30 minutes or so. I've left mine on by accident more times than I can count - not good. Thankfully nothing caught on fire and it still works great! Revlon hair products are the best, great price and quality. Connair sucks!