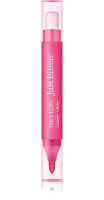 Don't bother with these...

When I just saw these, I thought it was a great idea, and the colour range was not too bad, so I prepared to fall in love... I got two of them, one in "Forbidden" and the other one - I can't remember the name, because it dried out and went into trash almost immediately after I purchased it... First of all, not true to colour. But even that wouldn't be that much of a problem for me if I could just...read more get to use them for more than a week... One of them dried out in about a week, and the other one lasted not more than three weeks in total, before it started sort of flaking off these darkly pigmented pieces of whatever it is made out off... And the more you press (you obviously have to press because they are so dry) the more of that weird stuff you get on your lips - it's just unpleasant in every way imaginable... Basically it feels like you are trying to colour your lips with a really sharp, dry permanent marker - that's the best way I can describe it. And not only you don't like the colour (when you do manage to get something out of it), but it goes on patchy, which makes your lips look terrible either way... If this didn't dry out so quickly, the only sensible way of wearing it would be to apply as much as possible of the balm (on the opposite side of the dry marker), then dab a bit of that "ink" onto your lips and try to spread it over your lips as much and as quickly as you can... And by the way, the only reason I'm giving this 2 stars, is because I actually liked the balm side of this product... I don't know what it's made out of, but I found it very moisturising on my lips... Still, half an inch of lip moisturiser isn't worth the money that these Lipstains cost... And no, I would absolutely not recommend this to anyone.

Bitten By What?

I tried the Revlon Just Bitten Lip Stain and wish I had saved the money. The color you think you are buying is not the color on your lips. Now getting it on your lips is difficult as well. The tip didn't dispense the product evenly and once I did get enough on, it was gone in 20 minutes. These also dried my lips out terribly! I don't want to ever be "bitten" again.

nope

ok, so i was gonna buy this but first i watched avideo review. this person loved the color, so did i. she later did a totorial on how to line lips. it looked great. then, she used the balm. as she was putting it on, the balm completely snapped. she wasnt happy.
Back
to top