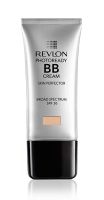 So disappointed.....

I read other reviews that said this BB cream had more coverage but they lie. For a small bottle for $12 I was expecting more performance. It did nothing to cover my redness, discoloration, and large pores. My husband even commented that it looks like I have nothing on my face so why even pay $12 for this. I was hoping this BB cream would make my face glow but it didn't. My face still looked super ...read moredull. The product was thick and it had a nice beige tint to this so I was really hoping it would cover my imperfections but it didn't. I thought that applying more would at least cover my face but I had two layers of this on and......my face STILL looked exactly the same like nothing is on my face. Sad to say I had to apply concealer afterwards on top of this to cover my flaws.

I didn't like it

Really dissapointed, it does not cver anythign in my skin.

Fair

I don't use BB creams on daily basis, but I got this one on discount price so I take it anyway. I like the coverage it gives as well as the range of color. the only downside is the price, here this product is a bit overpriced.