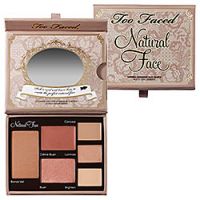 Too Faced Natural Face Natural Radiance Face Palette
As low as
One of the Best Face Palettes

This palette comes with a bronzer, 2 blushes (one cream and one powder), and a concealer, luminizer, and brightener, all creams. It also has the application cards for different looks that Too Faced is known for. This is a perfect palette for summer, since the blushes and bronzer are light in color, and very natural. I like both blushes. I put the darker one on first, and the lighter one (the ...read morepowder) on top because it has a slight sheen to it. Also, the cards demonstrate how to use all of the products together. Classic Radiance look combines the bronzer, brightener, creme blush and powder blush. It comes in a nice box with a mirror. I highly recommend this for summer for a very natural look.

Best natural face palette ever!

First off, I want to say how much I truly love being a member of Totalbeauty because yesterday when I didn't find this particular product to review, I sent an email to them asking if they could put it up. The lady sent me an email within five minutes, and told me she would get it posted for me...and as I can see, she really did. I am so pleased with the customer service and it is so awesome to kn...read moreow it was posted because I asked. I love Totalbeauty and am a lifetime reviewer! Thank you! Continuing on with my review: This palette is a 10. The "cheat cards" it has in the little mirror area are easy, awesome step by step ways to make your face look natural and effortless. I have tried every look and they are all beautiful. The bronzer is a gorgeous brown, shimmery finish, the cream blush looks so natural and a little goes a long way. The powder blush is such a beautiful tone for everyday and I am excited to use it for summer. The concealer is perfect for under my eyes for my dark circles and highlights my "inner face" because it is a tad lighter than my skintone. The luminizer is great on my eyelids and even blended a little above my brow line to make a natural lift. The brightener is awesome under my brow line to open my eyes and make them pop :] After applying all the necessary products to my face I don't need any eyeshadow! It is such a great palette so I am trying to use it sparingly so I don't have to buy another one yet! Another great thing is the palette normally runs about $40 however they had it on sale at Ulta for $22 and I had a 20% off coupon even on prestige so it was less than $20! Awesome!
Back
to top