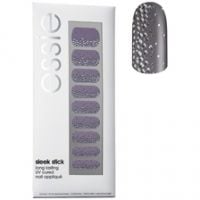 Essie Sleek Stick
As low as
My true experience

Essie Sleek Stick UV cured long lasting nail stickers. When I opened the package the instructions were very well thought out making it easy for any one to do. There were photos explaining how to do it with wording as well. The designs are all beautiful and are very detailed. This product comes with one curticle stick, one file and buffer. There are eighteen nail stickers giving you multiple ways t...read moreo wear them. They fit very well for all different nail sizes and it allows you to put your actual nail under the clear part of the sticker sheet to allow you to find your perfect size. They also seem to fit securely and snug on your nail. The colors are very vibrant and have a great 3D dimension in graved on the nail peel stickers. They are very easy to apply and last for about 3 to 4 days for me. They are great for a quick nail color to go to a night out or something. They take no more than 5 minutes to apply and there is no drying time but look just as good if not better than actually painting your own nails. I really love them and I would recommend this to a lot of women especially for little girls who love painting nails but can make a mess easily. Theres no mess here with these nail polish peels and sticks. They are very shiny looking and look very perfect in every way possible. I think you should diffidently try them and see how you like them. There are many colors to choose from ranging in nude soft colors to bright out standing striking colors that pop. They do not look plain at all and are a true bargain to invest in especially if you hate painting nails but love the after results. You get the same thing here just a lot easier and a lot less time management.

They wasted my money

I bought this, put them on and within 12 hours the pattern came off. Not the stickers, but the pattern painted on the stickers. I'm not rich enough to pay ten dollars for only 12 hours of wear.
Back
to top