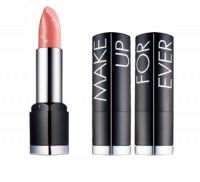 Make Up Forever Rouge Artist Natural
As low as
9N

Holy cow! I am in LOVE with this lipstick. I received this as a deluxe sample for my birthday along with the mascara and although the mascara wasn't too impressive this lipstick is!! I can't even describe the color or what it does to become to beautiful on my lips but when I first looked at it in the packaging it looked like a color for an older woman. It is like a wine/maroon color that did no...read moret look like it would look pretty with my skin color or natural lip color. I was sooo wrong. I applied this after putting on chap stick and was so in shock as to how it brought out my own natural lip color and still looked natural on me but still stood out. I have received SOO many compliments when I wear it; I wore it on Thanksgiving and everyone was saying how much they loved my lipstick. I feel like this lipstick is meant to compliment natural lip color or something, I can't describe how it looks so great, especially since the actual color is so misleading. The product goes on super creamy and lasts for about half my day; I checked the price when I went to Sephora-$20, however I believe it's $20 well spent because this is my new favorite lipstick for work. I am required to keep my makeup naturally looking for work and even wearing this lipstick compliments my lips and face without causing unwanted attention from my supervisors. The color I have is called 9N. Definitely try it out if you want a BEAUTIFUL, new, natural looking lipstick!

I never thought I could pull off red lipstick...

But I got this in N45, which is a bright red, in a lip set I had purchased from Sephora and I am a huge fan of it! The pigment is intense and it goes on like lip butter. It's long lasting too! I can't wait to try other colors!
Back
to top