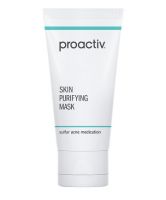 Proactiv+ Skin Purifying Mask
It Really, Truly Works!

I used Proactiv in previous years, and it combated my cyclical acne like a miracle. I remember purchasing a set for a friend who was upset over her combination skin and continual break-outs. She couldn't have been more pleased by the time she finished the first kit, yet she continued to order them. I saw what a true transformation this three-step system can create when my nephews--all fair-skinn...read moreed--developed severe cases of acne in high school. They had had perfect skin and then were suddenly besieged with blemishes! Nothing helped them and they were understandably self-conscious and actually didn't want to be seen (they were not shy). My sister bought this particular kit for each of them and made sure they used it religiously (regularity in use seems to be the key here). Within just a short time, their complexions went from red and blotchy to clear, smooth, and blemish-free! The products work for even those with sensitive skin, as they contain a relatively low concentration of Benzoyl Peroxide (2.5%). My nephews really enjoyed the mask. Used two to three times a week, the mask's white kaolin clay helped to pull out impurities and clean clogged pores (which, left unchecked, would have become blemishes). Sulfur in the mask is a natural antibacterial agent. It also cleans and improves the look of ravaged and large pores and removes excess oil. Sulfur is gentle to blemished skin. The best part? They did not suffer from raw, scaling, peeling complexions as Proactiv worked. The whole idea behind Proactiv is to address acne as a whole, not just on particular annoying spots. Their faces clear and smooth, and so were their shoulders and backs. Just a word of warning here: Benzoyl Peroxide can possibly bleach colored clothing, so wear something underneath to prevent this from happening. With Proactiv on the market, acne is becoming a thing of the past--finally!
Back
to top