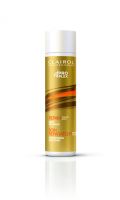 Not Bad, but Not Great

I was anxious to try Clairol's "Professional Repair Daily Shampoo." It is intended to repair color-treated or plain mistreated or dry hair, moisturizing and protecting from color fading. The scent was reminiscent of a styling salon but didn't bother me. While it did handle my hair gently, it could not compete at all with Neutrogena's "Triple Moisture Cream Lather Shampoo." The latter gives a m...read moreuch more lush lather, keeps hair voluminous, repairs injury to tresses, and encourages growth. This is a nice product but definitely not my all-time favorite one.

Not for me...

I received a bottle of this shampoo in the mail to sample and review, and I sort of ended up putting it off for awhile. Life was busy and I wanted to use it for a full week and really pay attention to my hair so I could write a detailed review about it. Unfortunately, I did not make it a full week. I have a very weak sense of smell, but the scent of this shampoo was still too much for me. It smell...read mores very much like perm chemicals, I think. I also had trouble getting it to lather--which is interesting because some other reviewers wrote that it lathered well, so maybe it's a water issue or something. I can't speak for how well this works for protecting color treated hair as mine is not currently colored. I am going to hang onto this because I've been thinking of dying my hair again and if it works well for that, it might be worth the smell and lack of lather. UPDATE: I recently colored my hair and started using this again. I am a natural redhead and my hair does not hold hair color very well. With normal shampoo my color always fades pretty quickly. It's still fading noticeably, but not nearly as quickly as usual so I think this shampoo is definitely helping. I'm also no longer having the lather issue I originally had--but I'm still taking 3 stars off for smell because the scent is BAD.

A good shampoo. especially for the price

I really liked using this shampoo. It really seemed to nourish and clean my hair, with out stripping it of oils. My hair isn't colored but It is very dry and damaged, and I feel like this shampoo did help moisturize it a bit. I also really loved the light scent and how well it worked through my scalp. I would recommend this shampoo especially for the cost! It rivals more expensive shampoos in my opinion, and I love that its designed to repair hair!
Back
to top