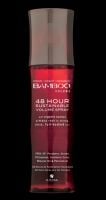 Alterna Bamboo Volume 48-Hour Sustainable Volume Spray
As low as
Great volume

I was convinced by a saleswoman to buy this at Sephora. I usually never succumb to their pitches but this time I bought it for some reason. My hair is natural, fine, thin, and down to my chest. I spray this on towel dried hair before blowdrying my hair upside down. This product I think makes the most difference in the root/scalp area. You can definitely tell that the spray lifts the hair up around...read more the scalp, especially around the temples. This gives the illusion of more fullness. My hair needs a haircut at this point, which is why the spray did nothing for my ends (they are damaged and thinned out at this point). The spray does make your hair seem thicker, I think that's because the hair separates and stands out more. You do have to sacrifice softness for it though. It definitely feels styled and worked through as opposed to my natural fine soft texture. But on the days that I need to style or make an updo or have a special occasion, this spray def comes in handy.

Holy Volume Batman!

I got this as a free sample, and the very first time I tried it, I actually had to tie my hair back to tame the volume! It really does what it says!

48-Hour Sustainable Volume Spray rocks!

My hair is very fine so I am always looking for products that will give it more volume, lift, and life. I was very skeptical when I saw the claim on the bottle about "clinically proven to instantly increase volume by 105%." Not to mention, it is supposed to last 48 hours! I thought to myself this is a perfect product to test and validate. It is expensive, but if it works I'll be ecstatic. I have ...read moreshoulder length hair so I sprayed this product approximately 12-14 times from root to tip throughout my hair and then blow dried as I normally would. I could tell a difference in the fullness and thickness of my hair instantly! Not only that, this product held the style of my hair better than other volumizers I have tried. Whether I was curling my hair under or flipping it up with some curls, the Bamboo Volume 48-Hour Sustainable Volume Spray kept the style and volume in place better and longer than any other product I have tried. And, to top it off, my hair was soft, not hard or sticky. It looked healthy, shiny, and full - what more could I ask for? Nothing! Thank you, Alterna! Thank you for making a product that does everything for those of us who weren't born with thick hair. Your Bamboo Volume 48-Hour Sustainable Volume Spray rocks! Too bad I'm in the business of testing products or I would only use this spray. But, on days that I want a guaranteed good hair day, I'll be using Bamboo Volume 48-Hour Sustainable Volume Spray.
Back
to top