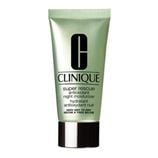 Clinique Super Rescue Antioxidant Night Moisturizer
As low as
Good, But Not Great

Being in my early twenties, I shouldn't have too many anti-aging concerns when it comes to the beauty products I use. However, I truly believe that it's couldn't hurt and could actually be quite beneficial to consider anti-aging techniques now before it's too late. This being said, I really wanted to try a night moisturizer or cream, something thick and heavy that I could put all of my f...read moreace at night and that would be anti-aging in some way. Currently the beauty market is flooded with anti-aging products designed for every need and every budget, so it's not an easy task searching out the best and most fitting product for the individual. As someone who has loved Clinique products for years now, I decided to go down that route. It's a mid-priced brand that offers excellent products for the price, in my opinion. I went to the Clinique counter at my local department store and wanted to get the Youth Night Surge cream that they had, but the saleswoman told me about this Super Rescue Antioxidant Night Moisturizer, which according to her is more fitting for younger people. I didn't know this and loved this bit of info, so I bought it. I was so excited to apply it to my face that night and to hopefully see how well it actually worked in the morning. Overall I found that this was a good night moisturizer. The key term, however, would be moisturizer and not cream. I was looking for something that would've been a little or a lot thicker than this product. Don't get me wrong, it's a good product and it certainly moisturizes, but I'm not sure if it's enough to say it's a night product. I didn't really notice any difference in my skin from my night and day moisturizers. Even with this in mind, I found it to be quite nice, it didn't have any harsh smell, and it applies very easily.

There are better ones out there

I'm in my early twenties and thought I would try this, thinking it would benefit me as I age. However, it hasn't wowed me like it should. There are better night moisturizers out there that give best results, make your face feel great, and has a pleasant smell. I haven't seen any promising results with this, and even if it does, it leaves my skin feeling uncomfortably greasy and has a medicinal sme...read morell. It also irritates my face during occasional breakouts. I would go for other products like Olay (which is cheaper), this is not worth the buy.
Back
to top