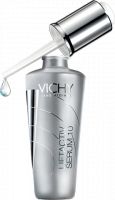 Vichy Laboratories LiftActiv Serum 10
As low as
Jury's out on the serums

It was lightweight, may be too much so. I could not tell what this actually does. It went on cool due to alcohol in the ingredient, full of silicones, bleh.

A Long Drink for Sensitive Skin

I have mildly sensitive skin, so whatever I use-it will never contain sulfates or parabens. Needless to say Vichy Laboratorie's Livactiv Serum 10 contains neither of these. It does however, contain citric acid and Hyaluronate which both bring moisture from within the dermal layers to the surface. Upon application this slick serum starts to feel like a light lotion and immediately sinks into the sk...read morein leaving behind a freshly washed feeling. I had no dry spots left behind and didn't need to use any additional moisture. NOR did I have the need for any mattifying products, which was a huge surprise. I'd been using Ole Henriksen's Truth Serum. The results in brightening and tightening that I've seen with that are hard to top-so time will tell whether I will decide to switch for good or i will use the Vicky serum as a morning only serum. It is less thick and much less greasy than the Truth Serum. It sat beautifully under a light primer and my all day make-up. Better than the Truth Serum, but can it produce the same results? For now I;m giving it 8 out of 10 stars. It feels great and it is generally hard to find a serum for truly sensitive skin. I did like the sample enough to buy the full size products and that speaks volumes. It works best for me while my face is still a touch damp right after washing and my pores are receptive. Try it fresh out of the shower after patting the face dry. If you are VERY sensitive, try replacing your moisturizer with the Vichy serum for a week and I'm willing to bet that you see reduced redness and less breakouts. It is a lovely, light serum that can be enjoyed by all but is certainly formulated for us sensitive skin gals! Enjoy!!!
Back
to top