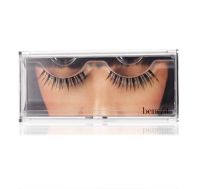 Benefit Angel Lash
As low as
Not Worth the Money

I gave this product a "1" because they are too expensive and do not last any longer than the $4.99 false eyelashes you can buy at Walgreens. When I worked at ULTA and had a discount, they were still too expensive. The regular price is $15 and they come in a nice plastic storage box. Bells and whistles. Who needs it. There is no difference in quality, application and life between these lashes ...read moreand the much less expensive ones. As long as you use a good adhesive (Duo adhesive), gently remove them and clean with eye makeup remover, and gently comb with an unused mascara wand, the less expensive ones will last 5-6 wearings. I found Benefit's lashes didn't even hold up that long. Then, I discovered Katy Perry lashes as well as other in the $4-$5 range. Please don't waste $15 on these lashes just because they are Benefit.

Not sturdy enough....

I got this for 45% off for employees at Ulta and I figured since I love the Prima Donna lashes from Benefit so much I might like these too. The band on this is really thin and when I first took it out of the packaging and stripped it away from the adhesive that was holding it to the plastic, the inner piece where I pulled it away bent out of shape and I had no choice but to cut it off. This is sup...read moreer fragile. I don't like how this looks on my lashes. It makes my lashes look super sparse. I like the length of these and how it curls up but will definitely be returning these. After i took this off at the end of the day and tried to pull away the leftover glue on the lash band, parts of the lash band stripped away too. Geez, what bad quality for such an expensive price.
Back
to top