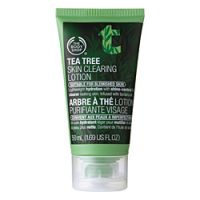 I like this!

I was having a very bad break out on my skin. I bought the body shop tea tree collection. I use the tea tree oil, day and night moisturizer. I loved these as lot. I loved this moisturizer as it didn't sting me or anything but just left my skin very nicely hydrated and at the same time cleared my skin. I will continue to repurchase these.

Best for people with oily skin!

I gave this product to my boyfriend, who had very oily skin and was prone to mild acne. He says he loves how the lotion absorbed in his skin right away (unlike the Clean and Clear Dual Action Moisturizer that left an oily film on his face). Throughout his use, he says that since he began using this lotion, his skin has been balanced (not too oily and not too dry). Two months after using this pro...read moreduct, the redness and acne in his face cleared up. So awesome! This is highly recommended for people with oily skin. DRY AND COMBINATION SKIN people BEWARE! I tried this product myself (I have combo skin) and while it did absorb, it left my face too dry. If you need moisture in your skin, this may not be the right product for you.

One of the best products I've tried!

I have mild-moderate acne, depending on the time of the month and this lotion, in combination with tea tree facewash, has cleared up my skin better than any product that I've tried. I've had a little dryness, but not bad at all. I love that it doesn't have the harsh chemicals that other acne products have, but it does the job!!
Back
to top