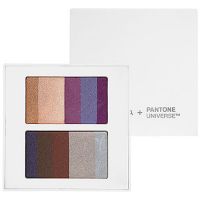 Sephora + Pantone Universe Alchemy of Color Eye Shadow Palette
As low as
A Gorgeous, Intense Compact!

And yet another shadow palette has crossed my hands. Palettes have always been my downfall when it comes to cosmetics, and I don't see an end to that any time soon. I am fascinated with Sephora's "Sephora + Pantone Universe™" collaboration. The colors are so vivid, so appealing, that they are hard to resist. Their "Alchemy of Colors Eye Shadow Palette" was on sale for only $17.00, and I did ...read morenot refrain but added it to my own collection. I was happily surprised and LOVE it. The ten vibrant, gilded and matte shades are inspired by precious gemstones. These shadows are baked in pure mineral water, a process which is unique in trapping color for a flexible, blendable texture, intense pigmentation, and high metallic shine. The hues are a true, luxurious gold, a shimmering peach, a very wearable mauve/violet (not too pink at all so that you look like you've contracted an eye infection), sumptuous, rich periwinkle, an intense violet, a lovely and unusual mix of lavender and cobalt, the most deep brown possible (infused with charcoal), chocolate, a taupe-grey shimmer, and a pure silver. The compact itself is magnetized, with a large, helpful mirror. I wish Sephora had included some applicators for touch-ups. I also wish that there was more delineation between the colors (they blend from one to another in the compact and are not in separate wells), but it does not distract from their incredible beauty. These hues can be used for the office or for nighttime drama. For a softer look, use a good brush, applying the lighter shades all over the eye area for a wide-eye effect, contouring with darker colors. Or do just the opposite: Help recede a full eye by brushing deep shades on the lid and highlighting with the brighter ones. They can also be used wet for increased intensity (known as "foiling"). They are satiny-soft and blend seamlessly. The wear? It is extremely long. I was surprised at how well the shadows stayed during the course of long, hot, and very busy days. Right now I'm still sporting peach, gold, chocolate, and the intense brown (called "Graystone") applied about ten hours ago and looking good. Get your palette before they're gone; I promise that you'll be sorry if you miss this!

Really Like This!

I bought this on sale as well and find the colors beautiful. They do stay in place and blend very well. I highly recommend.
Back
to top