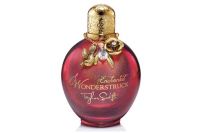 Girly and Mysterious

I got this as part of a gift set ($36 on sale for the full-sized perfume and a makeup bag), and I wasn't quite sure what to expect. I'm not a huge fan of Taylor Swift, and when I smelled her first purple perfume, Wonderstruck, I was less than impressed. When I first sniffed the nozzle on this, I was not impressed either. It smelled like any floral and musk perfume that teenage girls overspray and ...read moreuse on a daily basis, so I shoved this in the back of my closet, where it stayed there for about a month. But just now, I got curious (and was bored), so I took it out, and sprayed it on. And wow, was I wrong. Instead of the cloyingness and genericness that I first thought it would have, Wonderstruck Enchanted was surprisingly delightful. It opens with wild berries (red berries), poppy floral notes, and some fruitiness from the passionfruit note. They mix very well into this sweet, innocent, yet fresh blend. It reminds me of a young, mysteriously flirty girl, beautiful without trying, and wide-eyed with innocence, having a carefree day, maybe experiencing her first crush. But not in a tacky way. Then, it dries down to a more subtle, sophisticated floral scent with freesia, peony, and sugar, and finally finishes with base notes comprised of light white musk, vanilla, and woody notes, which is warm, familiar, comforting, and slightly romantic. I can see myself using this perfume during the fall and winter, and maybe even on warm summer evenings on dates. Besides the great scent, the bottle is pretty and mysterious, and I like that it's dark, which will protect it from light more than a clear bottle. It's something I wouldn't mind showing off on a vanity. Overall, I was pleasantly delighted with Wonderstruck Enchanted, even though my expectations were very low for it, and my initial opinion even lower. I think for someone to like this perfume, they have to actually try it on their skin, because it smells bad when sniffed from the bottle.

Love the Scent...Good Thing Because It's Strong/Clingy

This is a surprisingly delicious and somewhat fresh and girlish scent...kind of reminiscent of whatever the air smelled like when you had your first high school crush. Its warm and inviting...and this is a lot coming from me because I really didn't like the first scent (purple bottle). But this is absolutely amazing. The only problem that I have is that this is extremely strong and clingy. I kind ...read moreof wish it's spritzed out a little less...but still went all over. It's very clingy and lasts forever, which is sort of good for me. That's the only con and for some that isn't really a con.

One of my favorites!

I loved the first perfume TS came out with, and I was super excited for this stuff. I've never actually got the perfume itself, just the perfume roller. I love it! I would bring it to school with me and applied as needed. I got tons of compliments! My friends loved it and kept stealing it. A little goes a long way, so I would usually only wear on the inside of my wrists. It's awesome!
Back
to top